June 2014
Fencetastic's ColorFULL PVC coloured fencing!
We've kicked off our ColorFULL PVC coloured fencing range with BLACK! During the past seven successful years in the PVC Fencing industry we'd often received the question 'do you make your fences in Black?'. We can now say YES!
So your probably wondering the manufacturing process and the terms of warranty. As you may be aware Fencetastic's white, tan and grey are mono-extruded, thus meaning the colour is throughout the entire profile. New technologies have now lead us to co-extrusion to allow for darker colours. A process with two layers produced: the outer layer is constructed specifically to protect against Australia's harsh elements, mostly our UV rays; whereas the inner layer is manufactured similar although less UV inhibitors and more impact modifiers utilised to emphasize on producing a stronger molecular bond. As a result using co-extrusion, our ColorFULL fencing products are designed with a dense outer layer to protect against our UV rays and a more durable inner layer designed to withstand impact and temperature swings.
Fencetastic's ColorFULL PVC fencing profiles are co-extruded using ASA resin which produces a product that combines high temperature endurance and high gloss properties.
Strict testing with our accelerated weathering and impact testing equipment have been able to provide a longlife warranty of 20 years for our ColorFULL PVC fence profiles.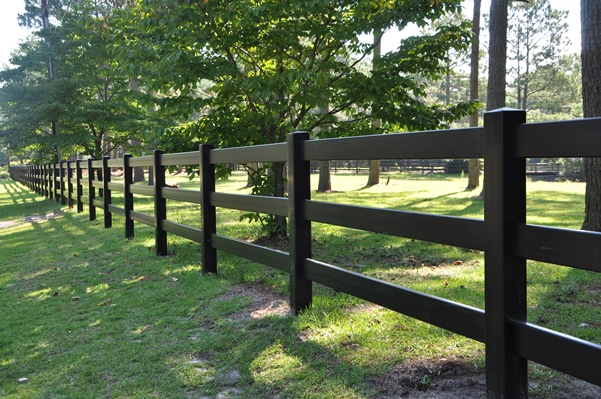 As you can understand quality takes time! Should you be interested in securing a new black ColorFULL PVC fence please contact us via info@fencetastic.com.au or 1300 787 596.
February 2014
SUPPLY OF THE FERNY DISTRICT CRICKET CLUB QLD
FENCETASTIC have been awarded to supply a new PVC picket fence at the Ferny Districts Cricket Club, Ferny Grove Brisbane Qld. Be sure to check it out next time you're in the area.
---
January 2014
SUNSHINE COAST AGISTMENT
This month FENCETASTIC will be delivering over 2.4km of 2 and 3 Rail PVC Fencing to a local Sunshine Coast Agistment (Name and Location TBA when open) following another 1400 meters.
These guys put their trust in us 100% and we delivered our promise 100%. Good ol' fashioned service leads to very happy customers. The FENCETASTIC team get great feedback from our customers and we keep working to improve our service to you.
---
December, 2014
SUPPLY OF THE ARTHURTON CRICKET CLUB SA
FENCETASTIC have been chosen as the preferred PVC Fence supplier of the Arthurton Cricket Club in South Australia.
Thank you Arthurton for your support and trust within Fencetastic for such a large project.
As always we look forward to receiving photos of the final installed fencing product.
---
August 1st, 2013
WHY ARE FENCETASTIC'S PRICES SO FAIR?
It has come to our attention that other PVC Fence companies have been degrading our products due to the fact our prices are fair.
As we are a family owned and operated company, we're able to keep our customers cost low. Within our family we have many talents that contribute to FENCETASTIC, this allowing us to maintain our company at lower costs than most.
FENCETASTIC have been supplying an installing PVC fencing for over five years now and have had no recalls on our white, tan or grey fencing products.
As others can see past the bad comments made by our competitors we are currently 12 weeks behind with our very busy workload, so we must be doing something right, right?
We're a company with dignity and do not degrade our competitors as our products are made with the same ingredients and strongly believe in our PVC Fencing products. We hope you can see the bright side with the money you will save when purchasing a FENCETASTIC product and we hope to be quoting your proposed fence or deck soon.
Thank you for your time and understanding.
FENCETASTIC Team
March 1st, 2012
BIGGEST SALE IN FENCETASTIC's PVC FENCING HISTORY!
DON'T MISS OUT ON THIS ONCE IN A LIFETIME OPPORTUNITY TO SECURE QUALITY PVC FENCING AT LOWER THAN WHOLESALE PRICES!!!
* Catalogue prices are only available through www.fencetastic.com.au
* Catalogue prices are not valid with any other promotion or discounts.
* Extra 12% for Tan/Grey PVC Fencing.* Catalogue Prices Exclude GST.
July 15th, 2011
Launch of our Facebook Page...

Receive a 10% discount on all our PVC fencing and decking products when you like our new facebook page. Click here...
September 23rd, 2010
Sunshine Coast Home Show & Lifestyle Expo, Kawana Waters QLD...
2010 Sunshine Coast Home Show & Lifestyle Expo 15th - 17th October 2010 Stockland Park, Kawana Waters, Sunshine Coast. This annual event continues to be hugely successful each year with big crowds and excellent sales. It is held at Stockland Park, Kawana Waters on the Sunshine Coast. This venue is in a central area located on busy Nicklin Way with easy access and ample parking, brought to you by Australian Events. FENCETASTIC will be there with their new range of fences and arbour displays. You can see the latest in PVC products that FENCETASTIC have to offer at site OS127 from 15th - 17th October, 2010.

July 26th, 2010
Spring Home Show, Brisbane QLD...
Huge demand for PVC Fencing in 2010 has brought FENCETASTIC to appear at many shows across South East Queensland area. We book these shows/expo's to make an appearance to not only give you and others the opportunity to win $1,000.00 off a PVC fence but for you to be able to come and see the high quality of our PVC Fencing and learn more about the excellent benefits that FENCETASTIC PVC Fences have to offer. We offer many styles to complement your needs and now with our new Semi-Privacy fences you should have no problems of finding what you need. In saying all this please be sure to see us at the Spring Home Show from the 1st of September to the 5th of September 2010 with our site location of PRIM12. We will be there for 5 days with our new release of PVC arbors and our great range of our high quality PVC horse, post and rail, rural, farm, privacy, picket and balustrade fences with no rusting, no termites, no painting, no cracking, and are maintenance free with a lifetime warranty, NO WORRIES. Click here for more event details.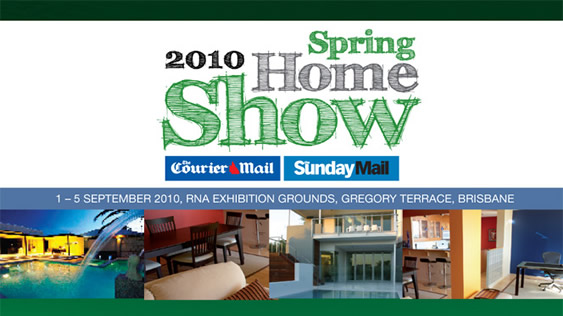 July 12th, 2010
A Fantastic Weekend!
It has been a very busy weekend for the founder of FENCETASTIC himself. The Nambour show was excellent and the response of others getting to know the benefits of PVC Fencing was fantastic. The highlight of the weekend for Mr. Lovegrove was not only the high demand for PVC fencing but the birth of his new baby girl that was delivered early hours on Saturday morning. If you would like to learn more about PVC Fencing and Decking and would also like to have a touch & feel of the product, you can see us at Farm Fantastic at 530 Rutters Road, Caboolture, QLD, 4516.
July 7th, 2010
Nambour Home Garden Expo
Located at Nambour on the beautiful Sunshine Coast, Queensland Home Garden Expo is a 3 day gardening extravaganza for both green thumbs and novice gardeners. Each year thousands of visitors discover the treasure trove of the gardening information, innovation and inspiration that the Expo is famous for. See us there at booth 212 on the 9th, 10th and 11th of July, 2010 with our privacy, picket, rural/horse/farm and ranch pvc fencing on display.
July 6th, 2010
Farm Fantastic and Win a PVC Fence Competition
We are officially booked in to Australia's largest outdoor expo of it's kind, Farm Fantastic. Held at 530 Rutters Road, Caboolture, QLD, 4516, approximately 50km north of Brisbane CBD. You can come visit us at this some 22 hectare expo at booth R22 on the 16th, 17th and 18th of July, 2010. We usually just have our Win a PVC Fence Competition at these type of expo's but wish to give our online customers the chance to win too. First prize is a $1,000.00 voucher off the price of your PVC Fence, 2nd prize a $500.00 voucher and 3rd prize a $200.00 voucher. This competition includes all of our privacy, picket, rural farm/horse/ranch PVC Fence styles. Competition ends on the 31st of August, 2010. This competition will be drawn on the 1st of September, 2010. The three winners will be contacted by FENCETASTIC an announced on our website.
July 5th, 2010
Northern NSW Distributor
Poole Enterprises and Fencing Pty Ltd has been appointed for distributing our PVC Farm/Horse fencing in Lismore, Northern NSW (more details). Whether your after a 2, 3 or 4 rail PVC fence Poole Enterprises can assist you. This great range of PVC post and rail system will allow you to keep your horses safe and your fence looking great all year round without the worries of maintenance.
July 1st, 2010
20% Off for end of financial year ends...
End of financial year sale goes out with a bang. It's great to be able to give our customers great deals on our PVC Fencing at the end of the financial year. Initially we had the sale for stocked items only, but due to the extraordinary high demand we got together another shipment for our customers that wanted the discount and didn't mind the wait.
June 25th, 2010
Darwin, NT Distributor
A & K Fencing in the hot and humid Darwin, Northern Territory take on the Distribution of FENCETASTIC PVC products. This will be the real test, it can't get much worse but Darwin would have to be the most harshest climates of them all. Going from the wet season to the dry season year after year FENCETASTIC Vinyl will without a doubt stand up to the harsh NT climates.